What we've had on the office stereo this week
Subscribe to our Spotify playlist for all our picks

Kelis
'Jerk Ribs'
Kelis teaming up with TV On The Radio guy Dave Sitek ranks pretty high on our good news barometer. Also, Motown chart-busting horns, school sports day whistles and Wild Beasts-alike bongos makes for one hell of a package deal.

Shabazz Palaces
'New Town Burnout'
There was pretty much no way that Sub Pop's Seattle rap duo reworking Animal Collective would be anything other than massively great, right? Right.
Treat yourself to a mucky feast of bass throbs and stabs of synth.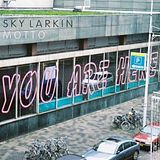 Sky Larkin
'Motto'
Soon to be sharing a stage with Marnie Stern at Queens, Wichita's Leeds guitar-rock signees' are keeping some strong company.
This newie got compared to Pixies, Sleater-Kinney and Sonic Youth when it premiered on Pitchfork.