What we've had on the office stereo this week
Subscribe to our Spotify playlist for all our picks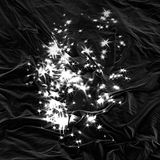 Peals
'Blue Elvis' (Dan Deacon Remix)
Made up of one part Future Islands and one part Double Dagger, Baltimore duo Peals' downbeat, spacey instrumentation is transformed into a bright electronica by the addition of admirable social networker Dan Deacon.

Janelle Monáe
'Q.U.E.E.N.' Feat. Erykah Badu
It probably goes without saying that this shining beacon of funk is one of the greatest things you'll hear this year.
"They be like 'Ooh, let them eat cake'/but we eat wings and throw them bones on the ground".

Sweet Baboo
'Let's Go Swimming Wild'
Frequently spotted sharing a stage with the likes of Slow Club and Cate Le Bon, multi-instrumentalist and all-round good guy Sweet Baboo's own band make irresistible, Beach Boys-flavoured indie-pop.
'Let's Go Swimming Wild' is all organs and horns, and is darned beautiful.