What we've had on the office stereo this week
Subscribe to our Spotify playlist for all our picks

Dinosaur Jr
'Entertainment' – Phoenix remix
The latest single from French alt-pop visionaries Phoenix had already made it into the top of our pops from 2013 so far. This faintly unlikely, but pretty astonishing reworking sees Dinosaur Jr stripping away all the bright shininess from the original and injecting it with a heavy dose of sleepy, downbeat melancholy.

Mutya Keisha Siobhan
'Lay Down In Swimming Pools'
Fresh from producing some of the finest alt-R & B of last-year for Solange, former Lightspeed Champion man Dev Hynes turns his attention to the recently reformed original Sugababes lineup on this reimagining of Kendrick Lamar's 'Swimming Pools'. Dayum.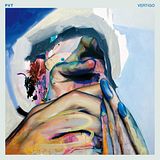 Luke Abbot
'Vertigo'
Our final reworked version of the week comes from Norwich electronica wizard Luke Abbott, who mucks around with Australian psych outfit PVT's woozy 'Vertigo', adding a housey pulse and throb and warping it into something altogether more After Dark-appropriate.