What we've had on the office stereo this week
Subscribe to our Spotify playlist for all our picks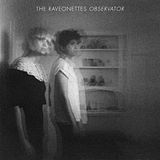 The Raveonettes
'Curse The Night'
First up this week, it's another absolute beaut from The Raveonettes' latest record Observator. Understated and ice-cool, the Swedes hold on to their role as masters of dark fuzz-pop perfection. We've got five copies of the album to give away in the run up to their show on the 29th, so head over to our Facebook page to see how you can win one.

Angel Haze
'Gossip Folks'
The first video to be released from Detroit rapper Angel Haze's Classick mixtape, this reworking of Missy Elliot's 'Gossip Folks' has been a mainstay of the office stereo ever since we first heard it. Brash and sharp-tongued, we bet Missy approves.

Doldrums
'She Is A Wave'
With his debut album Lesser Evils due out in February on Souterrain Transmissions, Montreal noise-maker Doldrums has been busy making clattering, bleeping, feedback-laden beats.
'She Is A Wave' is a trippy, bass-heavy freak-out, and we can't wait to hear more.