As one of the features in our first ever zine, we had a chat with former Electrelane frontwoman Verity Susman in advance of her solo show at The Lantern Theatre. It turned out to be her first ever interview on her solo work, and she had some seriously interesting stuff to tell us about the visual side of her performance. Read on for the unabridged version in all its Siri-citing, saxophone-brandishing glory.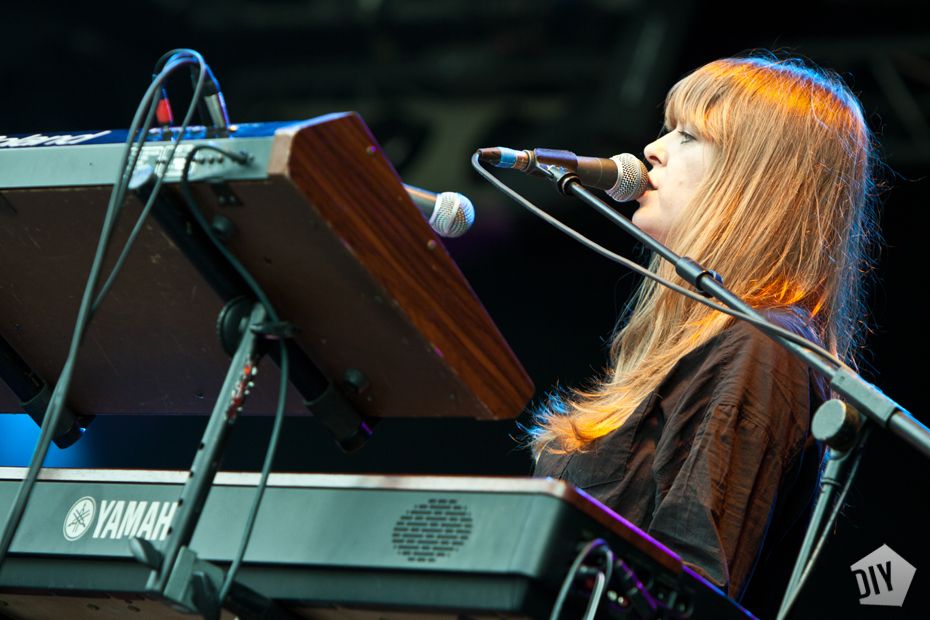 Visuals seem to be a key element of your solo work. What made you decide to introduce this element?
I'm using quite a lot of spoken word in the performance – computer voices 'reading' bits of text – and I wanted the visuals to pick up, amplify and sometimes distort or contradict the things that are being spoken about.
Film is also a way to illustrate some of the things I've been thinking about recently, like how it would be if your instrument was a part of your body. It is quite a visceral thought for a wind player because you are breathing in and out of something in a way that can really feel like it's a part of you. I play the tenor saxophone which can be a really loud, angry and powerful beast, with a massive, protruding bell end so when you play it you can feel like you have a lot of swagger. At the same time, you put it in your mouth to play which can appear as quite a submissive sexualised act, so it's a schizophrenic instrument.
To me this is interesting in terms of thinking about how we can find ways to express ourselves when our gender identity isn't fixed or stable; how an instrumental performance can become a form of elaborate gender performance. Jack Barraclough, who makes my visuals, is great because I could say things to him like 'merge people with saxophones' or 'make the saxophones ejaculate' and he wouldn't bat an eyelid and would go away and create these images and scenarios that are really surreal and funny, at the same time as being quite literal in terms of the things I've been talking about here.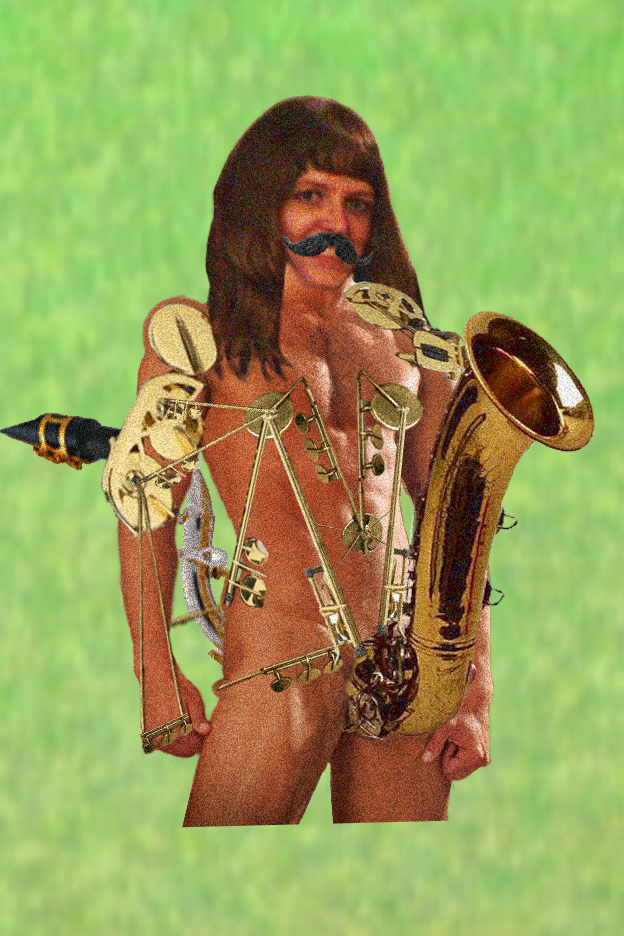 Are there any themes that you lean towards in the visuals for your work?
Aside from the above, an important part of the visuals at the moment is the retelling of a fan fiction story called Sustenance by the author Tenderware. You can read the story online. It's fantastic. But in case you don't have time to do that, in summary, it's a story about the Star Trek characters Captain Janeway and Seven of Nine, who is an assimilated Borg, and they crash land onto a distant planet and the only way Janeway, who is human, can survive is if Seven produces milk in her breasts and feeds her. I won't spoil the ending. Anyway, it appealed to me firstly because it is bizarre and hilarious and it's also really, really well written and at times quite moving. I'm not a Trekky but this story almost made me one. I have a computer man reading short parts of the text – disconnected sentences – and Jack's visuals recreate parts of the story, although with quite a lot of creative licence and with a saxophone army which isn't in the original, surprisingly enough.
I've been getting into cutting up the texts of fan fiction and pulp fiction romance novels and using Siri-style voices to 'read' these decontextualised sentences within the music. I'm interested in the new meanings that can arise, and the awkwardness, humour and emotion that can be created.
How do you feel that the visuals complement your music and your performance?
I asked Jack to make the visuals for me because he has a brilliant psychedelic cut-and-paste aesthetic to his films which I think complements the collage style of my music. I often write by creating individual and sometimes quite disparate sections of music and then knitting them together into a bigger whole, trying to see the connections between the various bits, and I think this is reflected in the style of the visuals. Like I said, I think the visuals also amplify parts of the text and things that I'm doing with my saxophone. They give me something to potentially engage with on stage, and something else for the audience to look at. I suppose having come from playing live with a band for so long it's a big change for me to be on stage alone and so I like having something else up there with me, even if it's not real humans.
Are there any other themes that you'd be keen to explore in the future?
Related to what I was saying about interacting with film, I'd like to get to a point where I could have some live control over what happens in the visuals during a gig, so I could engage directly with it. I need to get working on learning Max/MSP! The other thing is that I am in the early stages of developing the human-instrument idea into a sci-fi musical film about a future world where people have been fused with instruments that define their identity. Initially I wondered about making this into an opera for the stage, but unless I had an insanely high set and costume budget this would probably look a bit rubbish, so making it into a film seems like a better way right now to effectively realise the intense special effects that will be needed.
Were you influenced by the work of any other audio-visual artists?
Laurie Anderson and Meredith Monk are probably my biggest influences in this area. I love Anderson's work because it's funny, clever and heart-felt. In Monk's work there is a great combination of humour and surreal darkness. Her music is really interesting, and she projects this attitude of not giving a shit about what people think of her. In terms of on-stage interaction with visuals, I remember seeing Tracy + the Plastics years ago – the solo project of Wynne Greenwood. She would stop between songs and talk to pre-recorded film versions of herself, who were her bandmates, The Plastics, and this semi-robotic engagement really stuck with me.
I think I've also been influenced by bands that use films when they play. Broadcast were always incredible in that respect. I love them musically so they could have played against a blank wall and I wouldn't have minded, but I remember watching them in 2003 when Electrelane toured with them in the US. They were using these beautiful, psychedelic, abstract Super 8 visuals that, when combined with the all-encompassing nature of their music, made their performances completely overwhelming and wonderful.
Come and see Verity perform at The Lantern Theatre on Saturday 6th October. Follow this link for an exclusive discount on advance tickets to get them for £4.00 instead of £7.00. Simply enter 'Verity Susman offer' under the promo code to claim your discount.
Saturday 6th October
Verity Susman (Electrelane)
The Lantern Theatre
7.30pm
18+
£4.00 exclusive discount
For all our other gig listings, see here.