With the likes of The Baghdaddies, Trans/Human & Dave Judge's Djembe Ensemble and Maxine Peake's The Eccentronic Research Council all performing in a seriously incredible setting on Barkers Pool, this is going to be a whole world of fun.
Read on for the Spiegeltent's full gig listings, and got to the Festival Of The Mind's website to check out the details of the rest of the programme.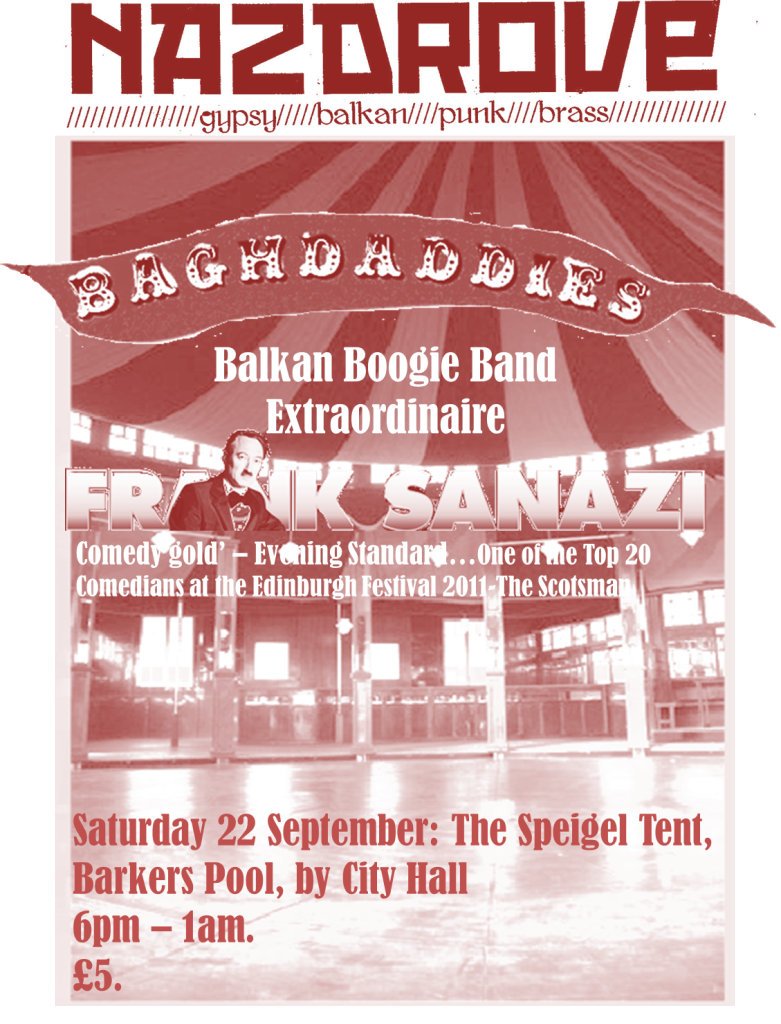 Thursday 21st September
Friday 22nd September: Slightly Fat Features
An evening of highly recommended comedy cabaret from the Sheffield natives. 7.30pm – 10.00pm. Advance tickets: £10.00
Saturday 22 September: Na Zdrove!
With Balkan troupe The Baghdaddies heading up their lineup, Na Zdrove continue to bring the sounds of eastern Europe to south Yorkshire. With support from Frank Sanazi and more. 8.00pm – late. Advance tickets: £5.00
Monday 24 September: Boneshaker
Playing 100% vinyl, expect to hear 40s, 50s & 60s R&B, Motown and rock & roll. 9.00pm- 1.00am. Free entry.
Tuesday 25 September: Thirsty Ear DJs
Having earned themselves a reputation for putting on some of the finest parties in the city and bringing some seriously big names to some tiny venues, Thirsty Ear join the dots between funk, soul, afro, Latin, reggae, hip-hop and beats. 9.00pm – 1.00am. Free entry.
Wednesday 26 September: Sheffield Pop and Electronica
Join us after the screening of Made in Sheffield for some Sheffield pop and electronica. Free entry.
Thursday 27 September: The Speakeasy
Jump back to the 20s and 30s. Prohibition era with vintage to electro swing music and lindy hop dancing. There'll be a screening of Bugsy Malone followed by a dance class, vintage through to electro swing records from T-Funk and a live electro swing performance from the Legitimate Gentlemen. Police raids possible, fancy dress optional. 8.00pm – late. £2.00
Friday 28 September: Psychedelic Dancehall
Fusing world music with psychedelia, the night will be headlined by Soukous Revelation, with Black Gold of the Sun also playing live. The night will also play host to an exclusive collaboration between The Audacious Art Experiment's Trans/Human and Dave Judge's Djembe Ensemble. Look out for the visuals which will be dotted around the venue, and are being provided by Guywuy. 8.00pm – late. Advance tickets: £4.00
Saturday 29 September: Sensoria
Sheffield's highly acclaimed film and music festival take over the Spiegeltent to present a special performance by the oddball Sheffield electronic outfit. Featuring I-Monster's Dean Honer, Chanteuse & The Crippled Claw's Adrian Flanagan and actor Maxine Peake, the band will perform material from 1612 Underture, their tribute to the Pendle Witches. Check it out below. 8.00pm – late. Advance tickets: £5.00
Wednesday 19th September – Saturday 29th September
Spiegeltent
Barkers Pool, Sheffield