What we've had on the office stereo this week…
Get all our picks on Spotify

Killer Mike
'Untitled'
Just as we've said before, the Atlanta rapper has produced what will almost definitely end up being our hip-hop record of the year in R.A.P. Music, and the newly-released 'Untitled' is one of its finest moments. Smart, sharp and bass-heavy, it's a musing on mortality which comes complete with Coretta Scott King references and one of the best videos we've seen in ages.

Deep Time
'Gold Rush'
A pair of ghosts play volleyball and hit up the party poppers in the Austin duo's brand-new video. Musically, it's more of the same punchy, off-kilter wonk-pop that they do so well. Be sure to catch them at our place on 18th September, and look out for some words and recommendations from them in our forthcoming zine.

Drenge
'Dogmeat'
The brothers' scrappy garage is offset by a booze-soaked illustration of just what a phonebox is really used for these days, in spite of what Maroon 5 would have you believe, c/o a static camera and an evening on West Street. Grisly.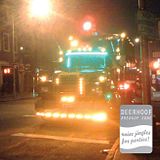 Deerhoof
'Breakup Songs'
The band's new album of 'noise jingles for parties' is up now to stream before its release next week and, on first listen, it's unsurprisingly brilliant. Enjoy, and get pre-ordering.